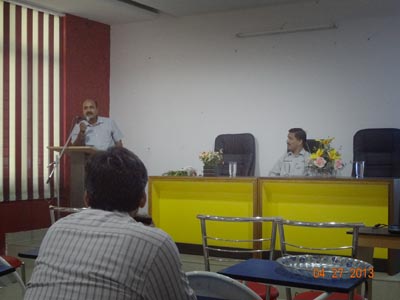 An interactive session with Mr. P. C. Lahkar, Manager AMTRON (Assam Electronics Development Corporation Limited) was held in Scholar's Institute of Technology & Management (SITM), Garchuk, Guwahati - 35, on 27th April, 2013.
Mr. P. C. Lahkar did his B. Sc. Engineering from BIT Sindri, Dhanbad, Jharkhand in the year 1985 and he is presently working as manager, AMTRON, Guwahati. He is the head of Solar Project, Security Electronics and satellite communications VSAT project, AMTRON. He is also working on Virtual Fencing Project in the Riverine areas of Indo-Bangla Border.
Mr. Lahkar motivated the students with his unique way and encouraged them to make the best use of available resources. Later he gave a presentation on Solar Power and Solar Energy. He talked about the conversion of Solar Photovoltaic to renewal energy source. The content was technically rich especially for the students of Electrical and Electronics background.
The program was inaugurated by the vice principal, Dr. Th. Shanta Kumar, and was attended by the students and the members of the Training and Placement Cell of SITM.